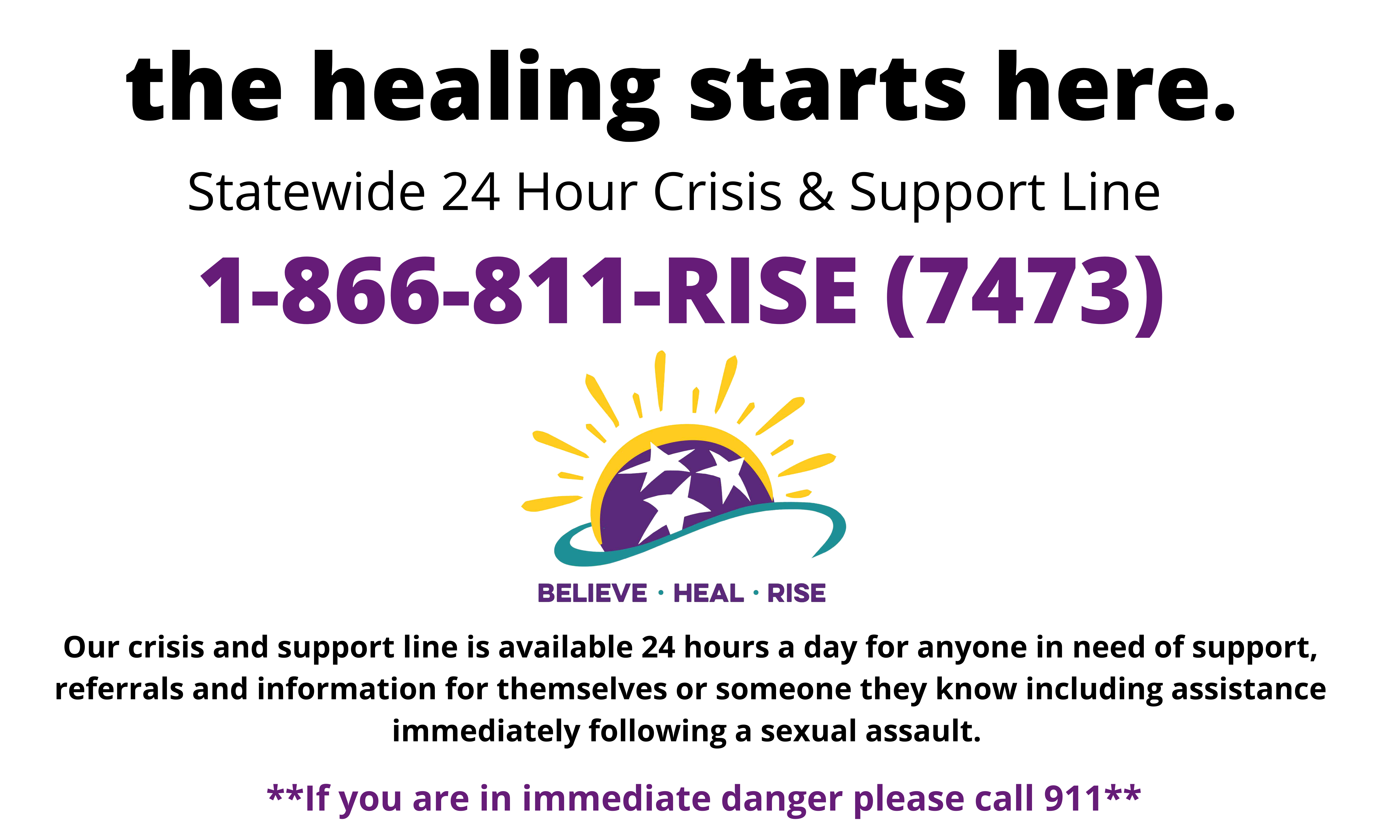 The Tennessee Statewide Sexual Assault Hotline is available 24/7 to support, connect, inform, and empower survivors of sexual assault.
We offer crisis intervention, resource linkage, and information to survivors of sexual assault and anyone looking to support a survivor in their life. Chat services are also available 7 days a week from 7 am-11 pm, and can be accessed here. Translators are available for all Hotline calls.
Hotline services include:
Referral to social services and other survivor-centered organization including but not limited to:
Advocacy
Counseling
Incident Reporting
Rape Crisis Centers
Sexual Assault Forensic Exam Providers
Shelters
Support Groups
Crisis intervention including services including but not limited to:
Breathing exercises
Grounding techniques
Safety planning
Suicidal ideation
Information relating to sexual assault including but not limited to:
Mandatory reporting guidelines
Mental health care
Supporting survivors
TN Codes and statutes related to sexual assault*
Trauma response
* The TN Statewide Hotline cannot and does not give legal advice. We can help direct you to legal clinics or practitioners in your area who can.
If you or someone you know has been sexually assaulted, whatever you're feeling right now is okay. There is no right way or wrong way to feel after experiencing sexual violence. Most importantly, we want you to know that it was NOT YOUR FAULT. There is nothing anyone can do to deserve to be raped or sexually assaulted.
If you have just experienced rape or sexual assault, here are some important tips:
Go to a safe place and contact a safe person

Do not change your clothes, take a shower/bath or brush your teeth

Seek medical attention immediately

Call SAC's 24 Hour Crisis & Support Line for help at 1-866-811-RISE (7473)
Learn More about the SAFE Clinic
Reporting Child Sexual Abuse
To report child sexual abuse, please contact the Department of Child Services at 1-877-237-0004 or online at https://apps.tn.gov/carat/.